I really can't believe that it has been 17 years since we launched Alistego in 2006. While she got fairly regular use for the first years, the last four or five have seen the poor boat languishing in our storage building except for her annual removal for a good scrubbing and to be honest it has been a few years since she got even that small amount of annual attention. 
Finally this summer, the sailing spark began to return so I took a complete inventory of what the boat needed to be put back into service. She didn't need much, really, but she was looking tired, so the cabin sides and front got some new coats of varnish which was a very good start. Next up was some new varnish on the rub rail and some fresh paint on the toe-rails. Now she was looking more like her old self but one thing was becoming very apparent. Her decks looked terrible. Wear and tear and lots of stains left behind by all kinds of contaminants (bird droppings, bugs, etc.) had it looking pretty sorry and just plain sad! 
Obligatory "before" photos: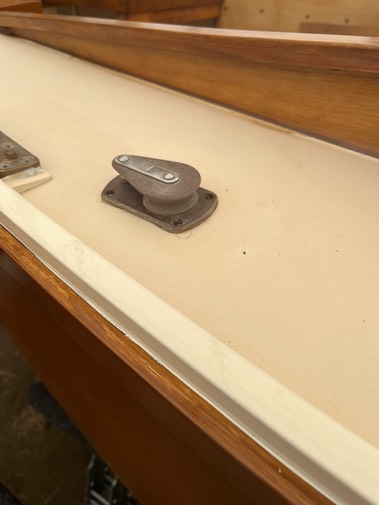 I began prepping the deck for recoating with Interlux Interdeck non-skid paint. After all the original lasted this long, unsightly, yes, but it was all still stuck down and in place. It became clear just how bad the stains and blemishes were when sanding with 80 grit paper didn't completely remove them. I decided to remove all hardware to make the job much easier and soon came to loathe my decision to use marine silicone to originally bed everything down. Needless to say there was plenty of authentic "sailor language" to accompany the process. In the end it all came off without much serious damage to the decks. Everything is now re-bedded with a more user-friendly alternative. 
And of course, the obligatory "after" photos: